Paul Kulik - Stunt Performer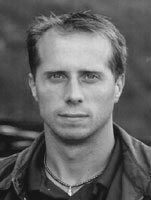 | | |
| --- | --- |
| Sex: | Male |
| Height: | 5ft 8" |
| Weight: | 10 st 8lb |
| Chest: | 36" |
| Waist: | 33" |
| Hips: | 34" |
| Inside Leg: | 29" |
| Inside Arm: | 21 |
| Shoe Size: | 10 |
| Collar: | 15" |
| Hat: | 7 1/2" |
| Hair Colour: | Brown |
| Eye Colour: | Blue |
Stunt Credits
Stunt Performer:
Amnesia (Double John Hannah)
Island at War
Where the heart is
  Brookside
  Merseybeat
  A league of Gentlemen
   Jonathan creek
Skills
Gymnastics  Stunt Exam
Trampolining Elementry Silver/Gold
Fencing Foil, Epee, Sabre
Kick Boxing Karate Brown Belt 1stKyu
Swimming Water Skills Grade 6
Sub Aqua Padi Rescue Diver,
Snow Ski,
Full Car Licence.


Acting Experience
2 Years training at Guildford school of acting (confident with dialogue)
3 Years Extra /Walk On/Body Doubling On Films ,Tv
3 Years Member Of Jousting Team
Live Shows ,Sword Fighting  With Speaking Parts.
Acrobat On "The Visitors"


Special Skills
Falls, Fights, Fire Burns,
Power Boating Small Boat Handler
Water Skiing
Sword Work, Sabre Foil, Epee, Broadswords.
Jousting England & Europe.
Horse work,  Saddle Falls, Bare Back, Jumping
Trampette Work,
Juggling ,Fire Spitting , 
Tumbling,
Gymnastics  Coach.
Personal Equipment
Scuba, Wet Suit , Kick Boxing Pads , Dry Suit, Body  Pads, 
Access to Gymnastics Equipment, Film Horses.

At Present Learning To Snow Ski .Show Reel On Request.

Contact Details
TEL : 01252 514134 
   Mobile 07970 749962 

Email Paul

 
 
 
 

---
Back to Stuntnet UK Database