Morgan Johnson - Stunt Co-ordinator/ Performer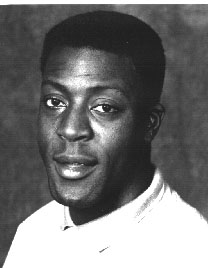 | | |
| --- | --- |
| Sex: | Male |
| Height: | 5' 10" |
| Weight: | 14stn lbs |
| Chest: | 43" |
| Waist: | 32" |
| Hips: | 39" |
| Inside Leg: | 31 1/2" |
| Inside Arm: | 22 1/2 |
| Shoe Size: | 10 1/2 |
| Collar: | 16" |
| Hat: | 7" |
| Hair Colour: | Black |
| Eye Colour: | Brown |
| | |
Stunt Credits
Stunt Co-ordinator:

The Prisoner
Thief Takers
Crossfire

Stunt Performer:

The Bill
 Star Wars
 Lost In Space
 Deadly Voyage
 Soldier Soldier
 Black and Blue
 Just Cause
 In The Heat Of The Sun
Gladiator

Skills
Snowboarding
 Parachuting
 Fencing
 Judo
 Sky Diving
 Scuba
 Gymnastics
 Roller Skating/Blading
 Horse Riding
 Rope and Wire Work
 Climbing
 Fight Routines
 Ski-ing
 Boxing
 Stair Falls
 Trampette
 All Sports
 Fire Jobs
 Strength Work

Acting Experience
Small Parts in Film and Television.

Special Skills
Bodyguard
 Fitness Instructor
 Judo Coach
 Fencing Coach
 Gymnastics Coach
 Swimming Teacher
 BJA Personal Safety Advisor
 Advanced Production Safety Cert
 Parachuting
 Military Skills
 Royal Marine Commando
 PTI
 Power Boat Coxswain
 Abseiling
 Unarmed Combat
 Weapon Handling
 First Aider
 Bobsleigh

Personal Equipment
Fixed Wing Helo Aircraft
 Fitness Equipment
 Crash Mats
 Fencing Equipment
 Climbing Gear
 Judo Mats
 Gym Mats
 Body Pads
 Ski Boat
 Diving Gear
 Wet + Dry Suits
 Parachutes

Many Years Experience Planning and Prepping,
 Displays and Events.
 Good Understanding of Logistics.
 A Fit and Capable Performer striving to update
 and increase skills.
 A Team Player.

Contact Details

 
 Tel: 01582 459609
 Mobile: 07850 364969
E-Mail Morgan Johnson
 
 
 
 

---
Back to Stuntnet UK Database