Dianne Kelly - Stunt Performer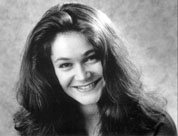 | | |
| --- | --- |
| Sex: | Female |
| Height: | 5 ft 5 1/2" |
| Weight: | 8 st 7 lbs |
| Chest: | 34" |
| Waist: | 25" |
| Hips: | 33" |
| Inside Leg: | 31" |
| Inside Arm: | 21" |
| Shoe Size: | 7 |
| Collar: | 13" |
| Hat: | 7" |
| Hair Colour: | Brunette |
| Eye Colour: | Blue-Grey |
| | |
Stunt Credits
Films
  Doubled for:
 Amy Brennam in Daylight - 1995-6
 Bond Girl in Golden Eye - 1994
 Bond Girl in Tomorrow Never Dies - 1997
 Kate Winslet in Sense & Sensibility - 1994
  
 Also in:
 First Knight - 1994
 Ivanhoe - 1996
 Remember Me - 1996
 Stick With Me Kid - 1994
  
 Commercials
  
 The Vectra File - 1995
  
 Television
 
 London's Burning
 Casualty
 Ghost
 Mother Time
 King Girl
 The Final Cut
 Bugs
 Bad Boys
 Thief
  

Skills
Skills/Abilities:
 Horses - All forms of riding & driving
 Cars - Precision driving
 Motorbike rides
 Fencing - Foil, Epee, Sabre
 Fights, Karate
 Qualified driver
 Wire work
 Abseiling
 Swimming.

Acting Experience
Trained for three years at London 
 Studio Centre in Drama & Dance.
 Worked professionally as actress and dancer
 Founder of own Theatre Company.

Special Skills
Horses
 Cars
 Fencing
 Underwater work
 Fights.
Personal Equipment
Diving equipment.
 Climbing harness.
 Full set of body pads.
Contact Details
Tel/Fax: 01242 253874
 Mobile: 07885 397686

 
 

---
Back to Stuntnet UK Database